JOHN LEWIS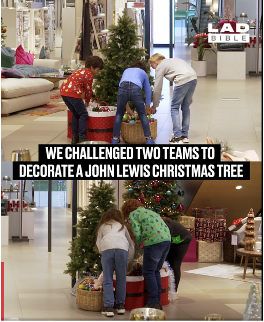 BACKGROUND
John Lewis wanted to work with LADbible to engage a new audience of potential shoppers over the festive period. The brand wanted to own pre-Christmas moments and be the go-to destination for families with children.
WHAT WE DID
With the help of some charming 'Little Helpers' we created the ultimate guide to the festive season at John Lewis to help Brits recapture their childlike Christmas wonder and cement John Lewis as the facilitator of magical Christmas moments.
Our campaign had hero videos shot in store of John Lewis that show these funny and charming kids become the much-loved faces of the campaign. Content included challenging children on gift wrapping, decorating trees and greeting customers as they did their Christmas shopping. 
We then utilised our LADcreator network  to drive further reach working with creators on TikTok to drive conversation around John Lewis. The Derrick Family were top performing with over 700k impressions, 604k views and 5.4k engagements.  
This was then complimented by stoppable interscrollers and on-site stories to drive products and click throughs to the John Lewis website which achieved over 94,000 engagements.
​
RESULTS
This campaign was hugely engaged with by our audience meaning we created buzz and excitement around John Lewis during the festive season.
The campaign saw 30 million impressions, 3.8 million video videos and a huge 8% uplift in brand awareness, making us the perfect partner to reach a new audience of potential shoppers.
Our research further drove action with a 9% uplift in intent to 'shop in store' and a 5% uplift in 'talking to someone about John Lewis' which helped in driving reappraisal of JL over Christmas.