KFC GRAVY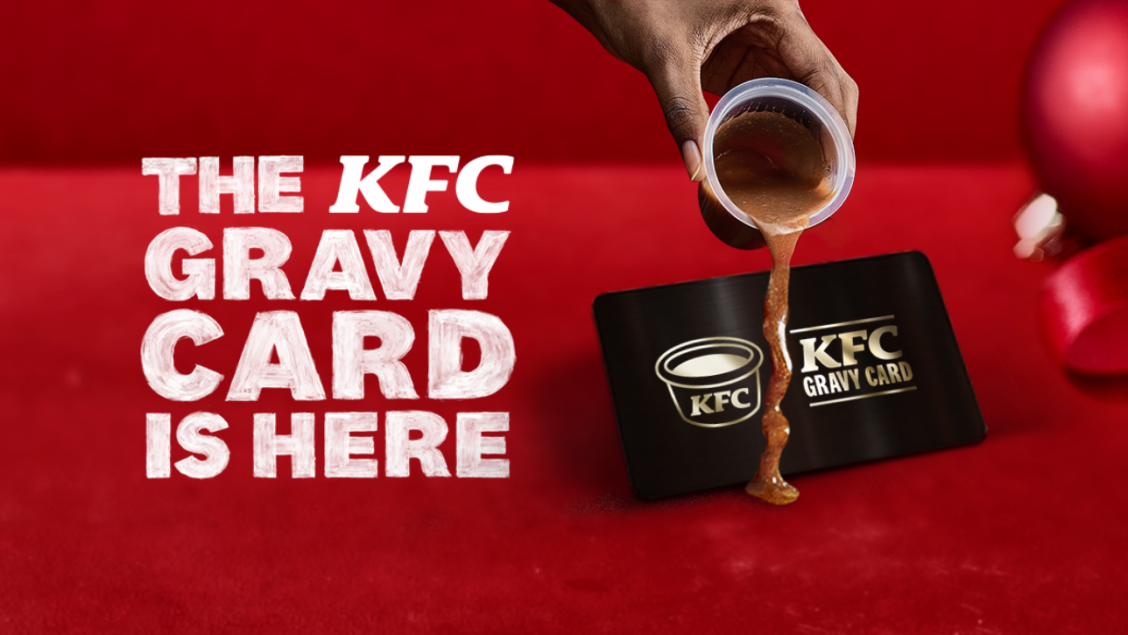 BACKGROUND
A remarkable 1 million pots of KFC gravy are reported to be sold in the run up to the festive period. We saw this as a potentially huge opportunity to drive passion for the brand. Because just one more visit to KFC per year by our customers would have a huge impact on the business.
We knew there was a real opportunity to create something that could celebrate and reward KFC customers, and create an impactful cultural moment for the brand during the cluttered Christmas period.
WHAT WE DID
Our big idea was to create the most exclusive and desirable black 'reward' card for anyone in the UK, the KFC Gravy Card. A VIP card for that provides one lucky owner with a year's supply of KFC gravy.
We would break the news before setting out a content strategy to drive hype around becoming the sole owner of the world's best bit of plastic. There were three strands to our approach. First, we created a synchronised cross-channel launch announcing the card and competition. This was followed by social content that sustained interest, before a third final burst of activity providing a last call for entries.
Ahead of launch, we created similarly stunning assets, comprised of photos, videos and designed hero assets to drip-feed out over the three-week window. We also reached out to KFC gravy superfans on TikTok, where their user- generated-content could help us position KFC gravy as highly desirable.
We launched with an unmissable headline: 'KFC launches an 'unlimited gravy' card that you can win'. This was supported by a 'leaked' teaser video shot on a phone, unboxing the gravy card to drive hype and legitimise its existence, which we embedded into our article and Instagram Stories.
We adapted all of the assets for publishing across our social channels and display, and published our headline article on LADbible. com with drivers linking through to the article via Facebook, Twitter and Instagram Stories as well as on FOODbible. 
For the sustain phase, we posted a meme showcasing a KFC delivery driver saying all he thinks about is 'gravy, gravy, gravy' – tying it back to our prize.
And for the final push, we shared a series of hype video Instagram Stories showcasing superfans tucking into KFC gravy with links driving fans for one last call to enter.
RESULTS
For the price of creating a single black card, we achieved our ultimate goal of increasing the number of visits to KFC per person (1.3 to 1.9) We generated an incredible 5.8 million impressions and on Instagram, our headline engagement-driving post generated a massive 86k engagements alone. Finally, 4,793 people went to apply to win the KFC Gravy Card by sharing why they love KFC Gravy.