PLAYSTATION PLAY DAY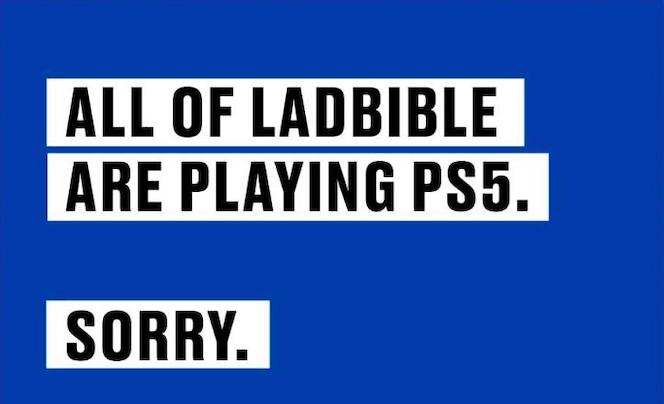 OBJECTIVES
The PS4 dominated the last generation console market but research showed that some were sceptical of how much further PlayStation could push the boundaries of gaming with the PS5. So, how could LADbible Group ensure PlayStation maintained dominance for the next decade through this launch?  
LADbible Group set out to create an iconic social media moment to launch the highly anticipated PS5, achieving PlayStation's goals: 
Winning at gaming; convincing committed gamers to choose PS5

 
Winning at culture; signalling to the wider market that PlayStation are the major player

 
All whilst embodying PlayStation's mission; 'Play Has No Limits.'
LADbible Group's brands are household names, reaching 31.5m adults in the UK monthly and received 1.6 billion engagements in 2020 on social. Our position within British culture coupled with our expertise in social media and creating 'movements', made us the perfect partner to deliver an iconic moment and amplify the significance of the PS5 launch. 
WHAT WE DID
Working with our Data, Intelligence and planning team, we learnt that 1/3 of Brits would consider taking a day off to play their new console [OnePulse Poll, Aug 2020]. LADbible Group took this brief and interpreted it in a way that only we know how, via a full social media takeover. We launched a nationwide Play Day! Giving our 300+ members of staff a day off to play PS5 and pausing usual editorial across our five key brands. We inundated social news-feeds with unmissable, standout posts advising the audience that 'All of LADbible have the day off, sorry. We figured they'd just be playing PS5 anyway.'  
RESULTS
Play Day pushed boundaries like never before, creating a shared cultural moment and shifting audience behaviour. 
We surveyed those who engaged with our content: 
43% claimed to have taken the day off to play

 
95% claimed to either already have a PS5 or plan to buy one

 

Of those, 64% said they're likely to cancel plans to play

 
Taking our single highest reaching post, this equates to 1.03m people claiming to have taken the day off – that's 8.3 million hours playing PS5.  
We created an unmissable moment across social and on-site. In 24 hours, we: 
Reached 24m+ people, from committed gamers on GAMINGbible to the mass-market on LADbible

 

Generated 2.7m+ video views, our live stream alone delivering 1.6m 

 

Gained the most engagements for a 1-day branded content campaign in our history:

 

135k Likes

 

11.3k Comments

 

6k shares

 

2.7k saves

 

30k competition entries, our biggest ever for a branded campaign

 
During the launch campaign, PlayStation 5 had the most successful UK console launch of all time.  
This partnership cemented our capabilities in intertwining PlayStation in British pop-culture, opening the doors to the longer-term opportunities in helping them maintain their momentum.