Three Mobile: Relaxing Stuff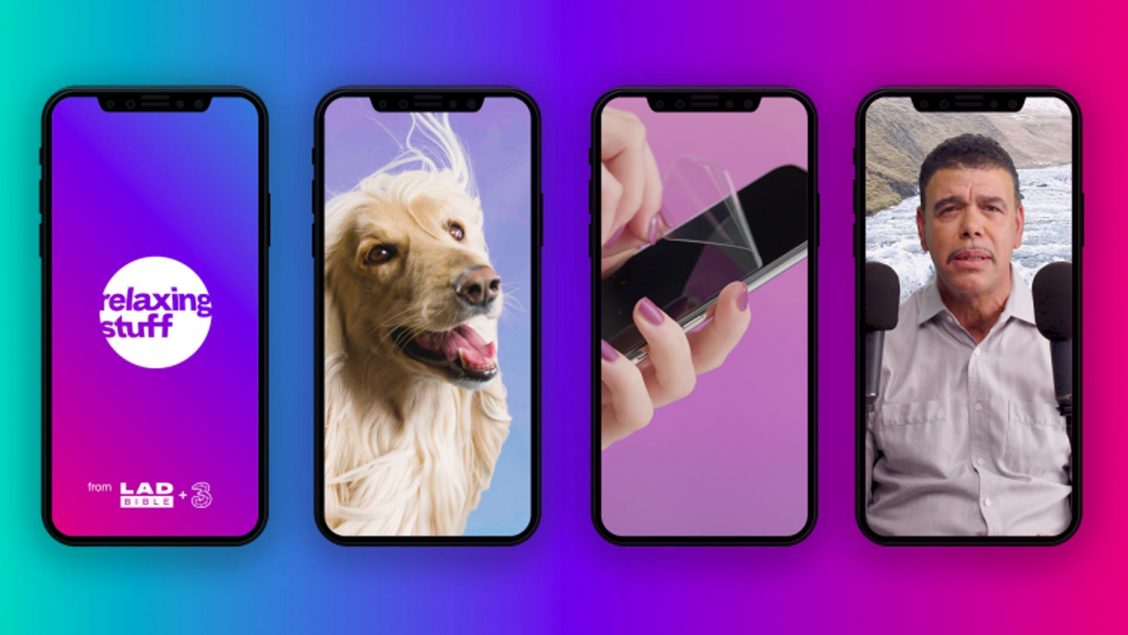 BACKGROUND
Three's ambition is to be the UK's best loved brand. To do this, it had to bring a unique voice to the audience's core passions for travel, student life, gaming and wellness. But people were feeling more negative about their online lives than they had for years. To convince them to engage more with a mobile provider, we had to make them feel good about their smartphones again and create an ownable space for Three to stand out in a cluttered comms landscape.
Our market research showed that the core pillar of 'wellness' was relatively competitor free and perfect for a brand to be part of. So, we set out to tap into this emerging trend, delivering impactful video content that stood out in busy social-media feeds. The research also revealed that while people are spending more time using mobile devices, they are also becoming much choosier about their media consumption and particularly about social media. 44% said they were posting less than they used to. But at the same time, half of UK consumers had downloaded a fitness or health app and one third had downloaded some form of wellness app.
WHAT WE DID
For this campaign, Three and Mindshare partnered with us to create 'Relaxing Stuff', a new type of social channel that uses technology to deliver daily moments of chill. Modern "wellness" often takes itself too seriously, which can alienate mainstream audiences. Relaxing Stuff was going to be different.
The goal of our new channel was to break up stress-inducing social feeds with relaxing videos that tied into Three's new 'Phones Are Good' brand mantra. That's why Relaxing Stuff featured videos showing dogs being shampooed in slow motion, the satisfying sound of screen protectors being peeled off phones, cute rabbits munching different types of fruity snacks and even celebrities experimenting with ASMR. Using editorial stories, videos and social assets across Relaxing Stuff's and LADbible's eco system of websites and social channels, we provided regular moments of chill to an audience of millions.
RESULTS
The campaign achieved the following:
440 pieces of content and 417K unique engagements in the first 12 weeks
Relaxing Stuff had the highest engagement rates of any publisher in health, wellbeing or telecoms in its 12 week launch period (Crowdtangle)
From 0 to 46K followers during campaign period
4M minutes of content viewed across platforms
We shifted purchase intent among 18-26 year olds by 14.8 percentage points
Our Lewis Capaldi ASMR video was the number-one telecoms video in 2019, by engagement, on Facebook
We worked with Mindshare to establish LADbible as the perfect partner for a new, super-relevant digital wellness channel that entertained as well as relaxed people with an aim to shift brand consideration.

Will Harrison, Marketing Communications Lead, Three