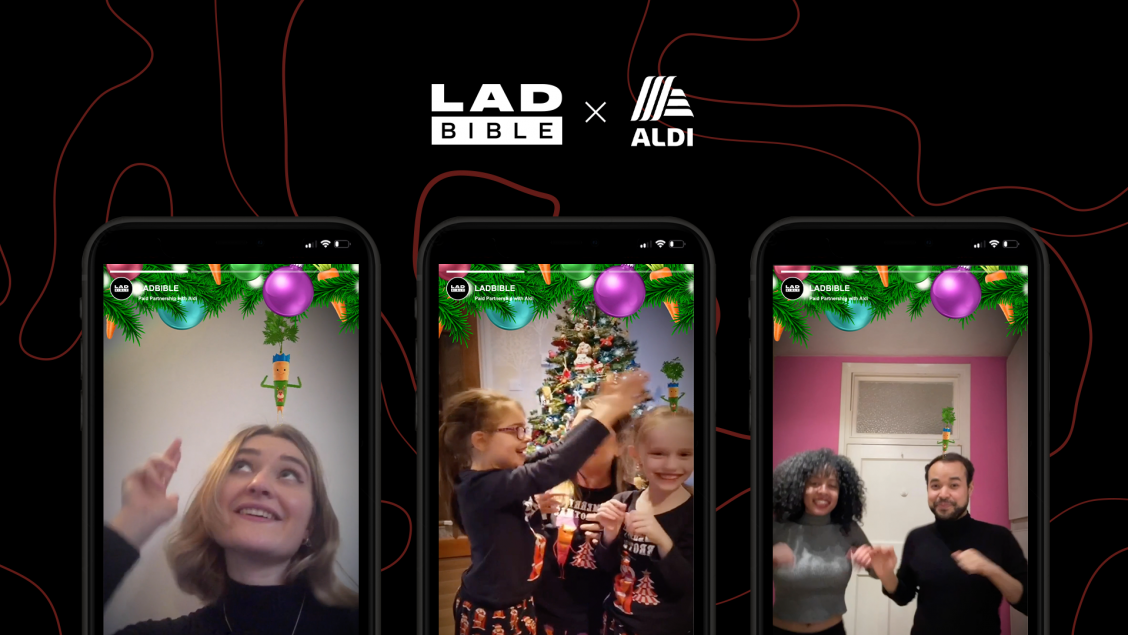 Aldi partners with LADbible Group to launch exclusive Kevin the Carrot Instagram filter
3 years ago
Aldi is collaborating with LADbible Group to launch an immersive Kevin the Carrot Instagram filter, available via LADbible's Instagram and Facebook channels from today. The augmented reality filter has been pioneered by LADbible Group and brought to life by their award-winning in-house creative agency Joyride, with the help of Aldi.
Like everyone else in the country, Kevin has had to turn to the power of technology to spend time with his friends. Launching today, Aldi and LADbible Group's brand-new augmented reality Instagram filter will enable fans to invite a dancing Kevin into their home for Christmas.
Aldi's famous root vegetable and star of its Christmas adverts returned to screens for a fifth year this November. For many, it is not Christmas without Kevin and so when plush toys made in his image were launched online on 15thNovember, it came as no surprise that as usual they sold out online in just over two hours.
With the help of the new Instagram filter, fans can enjoy Aldi's beloved Kevin the Carrot showing off his dance moves with his very own festive jig to Christmas tunes. The filter is released today (Friday 18th December) and fans can access the filter through LADbible's Instagram channels on a smartphone.
Julie Ashfield, Managing Director of Buying at Aldi UK, commented: "This year has made us all look at different ways to keep ourselves entertained and the digital world in particular has kept us all going.  Our Kevin and friends plush toys have proven extremely popular yet again, so we know that some fans may not have been able to get their hands on one this year. That's why we've worked with LADbible Group to create this fantastic AR version of the nation's favourite carrot so that everyone, everywhere can experience the fun and magical ways of Kevin this Christmas!"
Maya Orr, Head of Marketing and Comms, LADbible Group, said: "As the world's most engaged publisher, LADbible Group, we are constantly looking at ways that we can work alongside our partners to leverage our mass scale and produce some great engagement for the brands we work with. Our audiences go crazy for Kevin the Carrot, and to capitalise on this momentum, we wanted to spread some festive cheer and create a fun and engaging immersive experience that gives people the opportunity to interact with this iconic character in a first of its kind experience."