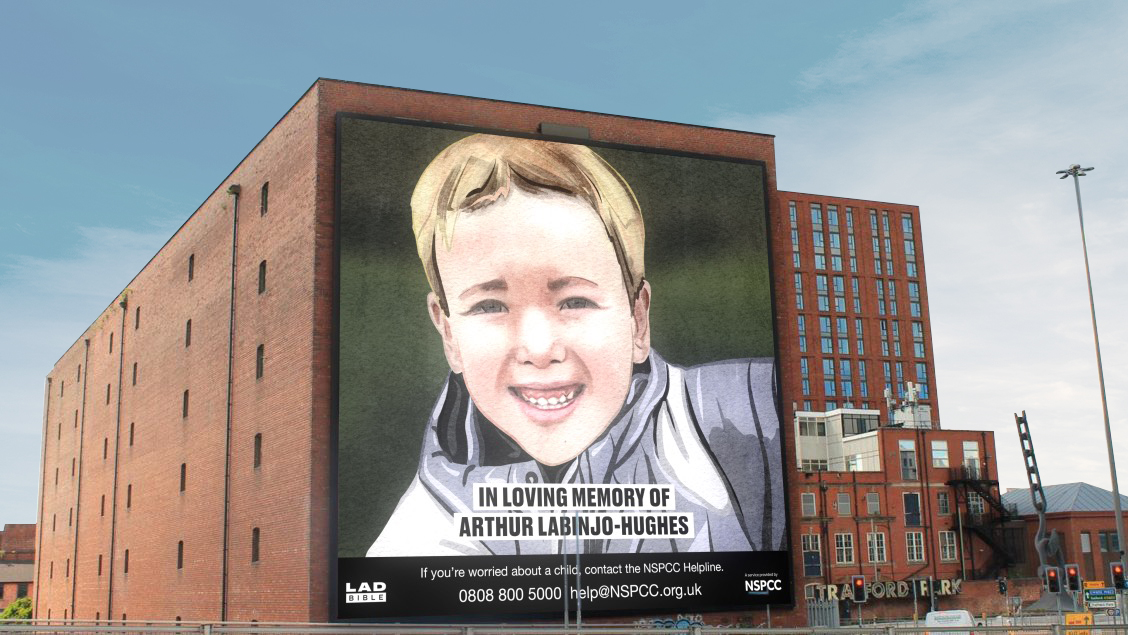 LADBIBLE RELEASES ARTHUR LABINJO-HUGHES MEMORIAL 
2 years ago
Leading youth and social publisher LADbible has released a billboard in memorial to Arthur Labinjo-Hughes on Europe's largest billboard, located in Manchester, close to LADbible's head office.
Created by LADbible Group's in-house design team, with a message reading 'In Memory Of Arthur Labinjo-Hughes' accompanying the illustration. 
LADbible has also worked with the NSPCC on the activation to raise awareness and offer support to anyone concerned about a child, with a clear call to action, encouraging anyone who may be worried to contact their helpline on 0808 800 5000 or email [email protected] for support. 
The billboard is live in Manchester and LADbible will publish the creative across their editorial and social channels, reaching an audience of 94.7 million.
Maya Orr, Director of Marketing and Comms, LADbible Group: 'Arthur's story has made a huge impact on our audiences and our comment sections have shown that so many want to ensure that this never happens again. We hope that this activation not only honours Arthur's memory, but also shines a light on the NSPCC's critical services and helpline.
David Hamilton, Director of Communications & Marketing at NSPCC said, "The nation is still shocked and heartbroken at what happened to Arthur Labinjo-Hughes. He must never be forgotten, and his memory must drive us, at all levels of society, to do everything we possibly can to keep our children safe.
"This tribute to Arthur on the billboard outside Old Trafford will hopefully encourage fans going to the game and people passing by to take a few moments to remember his life which was so cruelly cut short. Anyone with concerns for the wellbeing of a child should always contact the local authorities, the police or the NSPCC Helpline."