BUDWEISER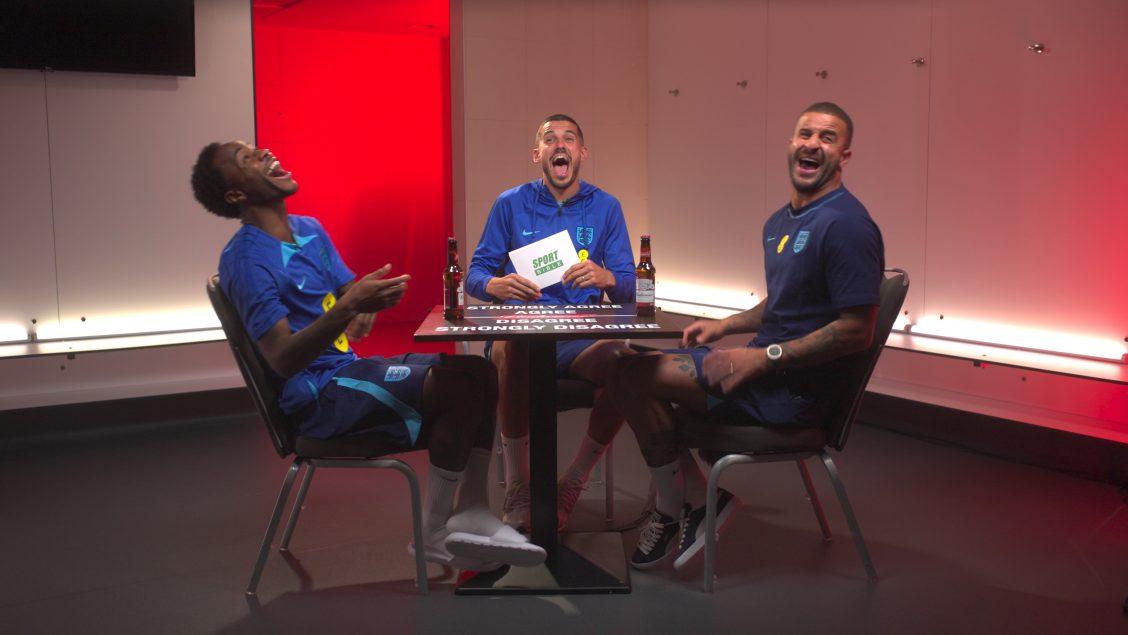 Background
Pre-tournament conversation at the FIFA 2022 World Cup was filled with debates rather than anticipation. Budweiser, official beer of the FIFA World Cup and the England squad, took on the challenge to change perceptions of what sports sponsorship looks like to engage with younger fans.    
And what better way to build excitement than through the power of social? So Budweiser enlisted SPORTbible to help England get behind the Three Lions and put Budweiser at the epicentre of social conversations.
What we did
It started by inviting fans into the changing room, launching the first episode of LADbible's famous 'Agree to Disagree' original series – where celebrities debate the big issues of our time face-to-face – featuring current England football stars.
We were able to show an authentic and fun side to two of the nation's heroes – Kyle Walker and Raheem Sterling – and get them to answer the questions that were on fans' minds…honestly! And hosting this groundbreaking moment would be none other than Conor Coady – England Defender and future pundit in the making.
It kickstarted a national moment of optimism with positive views and comments flooding in.
To further fuel the flames, we used LADbible's Twitter handle to ask fans to share messages of motivation for the players. Budweiser then took the best comments and printed them directly onto bottles of Bud, which was amplified across our channels.
 And at home, we sent roving reporters onto the streets to drum up support for England, and in Qatar, 'LADbible's in-house presenter, Maz, went behind the scenes with footballers and fans.
Results
We made Budweiser the most talked about brand in England during the World Cup, with #1 share of voice on Twitter VS other sponsors. 
Our landmark Agree to Disagree episode trended number one on YouTube in the UK, only the 2nd time this has happened for LADTV, with an average viewing time of 12 minutes. 
The 'Agree To Disagree' and SPORTbible stories were the 3rd and 4th most viewed pieces of World Cup sponsor content on Facebook during the tournament. 
Overall, we reached 27.2 million people and generated 72.4 million impressions (more than the number of people watching the World Cup final in the UK and exactly 200% over target!), with 4.8 million views of our content and 557,000 people engaging with us. 
You can see our Agree to Disagree content with Budweiser here
Budweiser roared – and thanks to this unique partnership, England fans roared with us.