CABINET OFFICE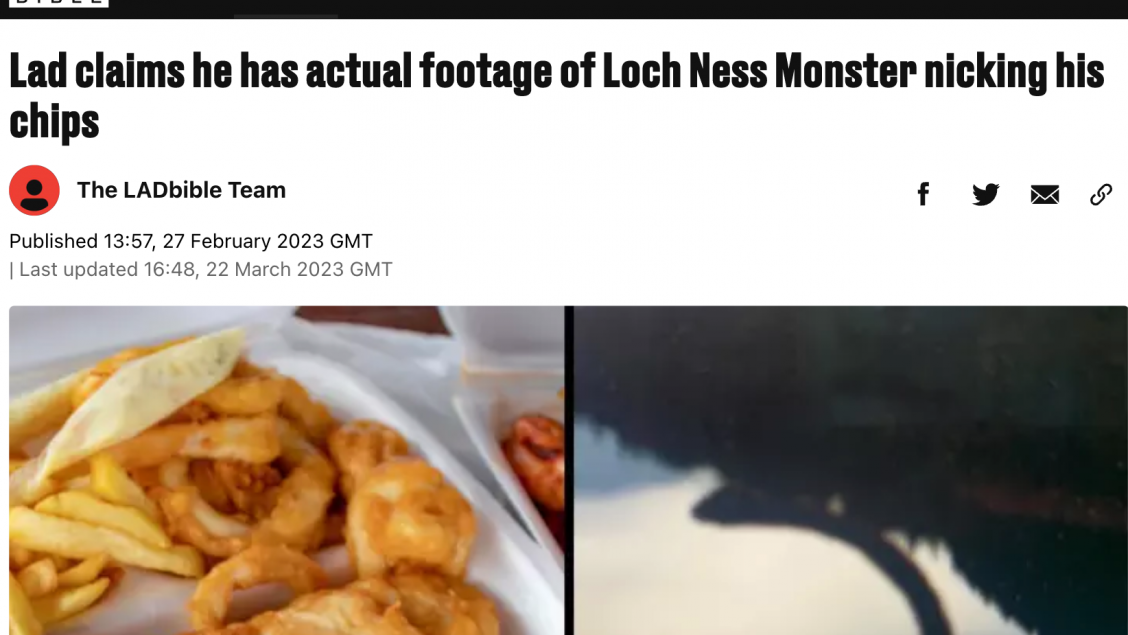 BACKGROUND
98% of British youth shared misinformation on social media in 2022.
That stat is 100% fabricated. But in the info-overload era, it sounded valid, right? You probably see where this is going.
While it's hard to track the precise spread of misinformation and disinformation, the effects are impossible to ignore.
Here's a real stat: according to Sky News, 51% of UK kids saw more misleading content in 2020 than the year prior.
As major stories like the invasion of Ukraine, the ongoing COVID-19 pandemic, and the launch of 5G emerged in the two years since, the Cabinet Office turned to LADBible for help illustrating how misinformation spreads.
WHAT WE DID
LADBible boasts a social following of over 100M+, 66% of which are aged 18-34. With a majority-youth audience, we needed to show the phenomenon of misinformation rather than preach about it. So we leveraged LADBible's immense following, posting a fake story on their Facebook and Twitter at the end of February. One month later, we revealed to the audience of millions that saw the article that it was a fake, deftly illustrating the insidious manner in which misinformation operates.
With a self-investigative video, we traced the impact of the fake story's spread, also turning the resulting info into a highly-digestible Instagram Story. Our content had to illustrate the threat of misinformation without actively being harmful, so we chose a concept that felt farfetched, but still believable: a sighting of the Loch Ness monster. We reeled in repeat interest with the same lead image, asking users to take a closer look at the headlines, and read through the article before sharing.
Meanwhile, our case study style video tracked this social dynamic with engaging infographics drawn from LAD Bible's robust data, never devolving into judgment.
Once we informed our audience about the alarming speed at which fake news can spread on social media, we took concrete steps to ensure they learn how to recognize and prevent its circulation in the future. We directed them to the government's S.H.A.R.E. Checklist, a valuable resource that provides practical guidance on effectively countering misinformation.
RESULTS
Our "story of a story" caught on in a major way. With only two pieces of organic content, viewership soared over our initial target by 24%, tallying 13.3M impressions overall. That meant we raised massive awareness surrounding the issue of mis/disinformation online among an increasingly vulnerable population.
More importantly though, our campaign got people talking about the issue at hand. Combined, our posts racked up over 133,000 engagements (comments, saves, and likes), with 55% of reactions positive, neutral, or tagging in a friend to share. That resonance was a key indicator that we'd not only reached the right audience, but that our message had hit the mark.
Even more encouraging: our typically click-averse target audience didn't mind leaving their social scrolls to learn more. We racked up over 239,000 clicks across both articles, with our follow-up article garnering an 8.2% click through rate. Evidently, we made it trendy to double check the credibility of the trending topics.
A final disclaimer for the judges: should any of you come across a story related to the whereabouts of the Loch Ness monster: double check your source before sharing. Because there are millions of LAD Bible faithful out there who would love nothing more than to correct you.