MCDONALD's: MCNUGGETWORTHY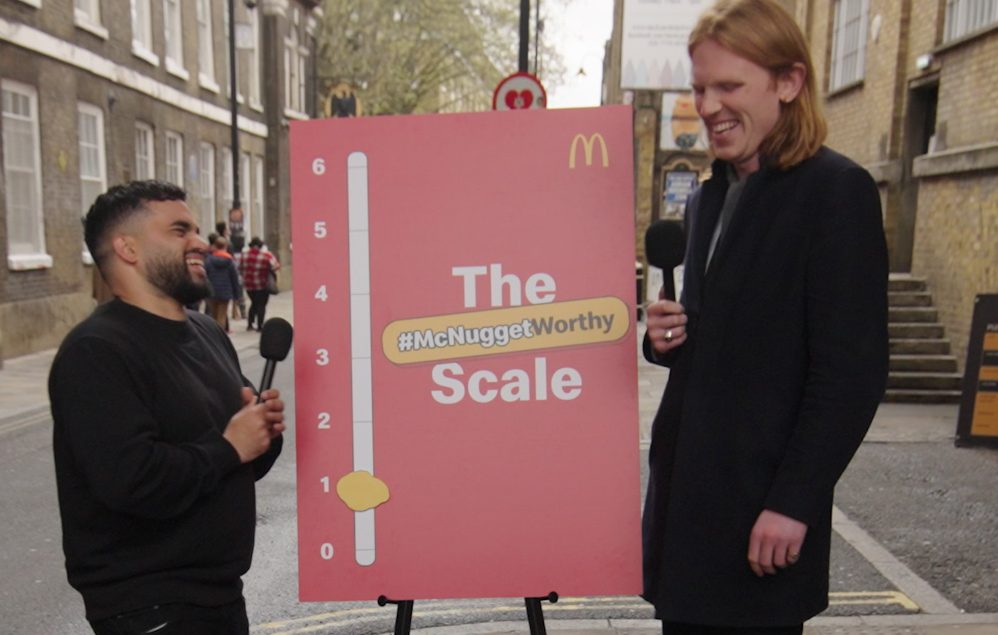 BACKGROUND
Chicken is on trend. From Chicken Shop Dates to Hot Ones, Popeyes to WingStop – chicken is having a moment, especially with Gen Z. The trend shows in sales – and as the preferred menu category across QSR, McDonald's needed to win our share of that (chicken) pie. 
But the much-loved Chicken McNuggets were being overlooked in favour of newer alternatives.
So, to tie in with the McNuggets turning 40, it was time to re-claim their place in the hearts, minds, and stomachs of the new generation of chicken lovers.
WHAT WE DID
But to get Gen Z's attention, the campaign needed to exist outside of advertising and inside conversation.  
And as the home of Gen Z, McDonald's came to LADbible to help them with their mission. 
So, first McNuggets turned guerrilla. In a world first, we used our editorial handles on LADbible to drop into the comments of trending social posts, casually scoring out of 10 how #McNuggetworthy the featured acts, stories and individuals might be. We introduced the #McNuggetworthy debate into the comments of over 140 trending posts with over 386 million content views between them! 
But next, we needed someone to humanise the #McNuggetworthy conundrum, and who better than one of our audience's favourites  – the man with 2.5bn streams on Spotify, 7 million+ social followers and a fondness for nuggets – Lewis Capaldi. We reached out to Capaldi and he filmed a 90 second Instagram rant, calling out his cousin for only deeming him worthy of a single McNugget which then led to Lewis asking his followers to suggest the number he really deserved. We reposted this news across our breadth of social channels… and created an official #McNuggetworthy Scale – gauging a person's McNuggetworthiness – off the back of it. 
We then took the Scale to the streets, where we interviewed passers-by to rate #McNuggetworthy acts in social videos. Votes, shares and comments followed – a full 770,000 of them – building a crowd-sourced, definitive #McNuggetworthy ranking  – and turning this into a trending topic, online and off, that celebs, influencers and superfans all contributed towards. 
RESULTS
It got cluckin' heated. Our debate delivered over 59 million impressions and reached 5 million Gen Zers and 18 million adults, and 35% of those aware said they had participated by voting or commenting.  
'Brand for me' scores amongst Gen Z rose by +10pp, Brand love by +8pp and Purchase intent by +15pp.  
Most importantly, McDonald's grew sales of #McNuggets over the campaign period with  3 times the expected uplift, meaning millions of extra nuggets were sold!