NANDOS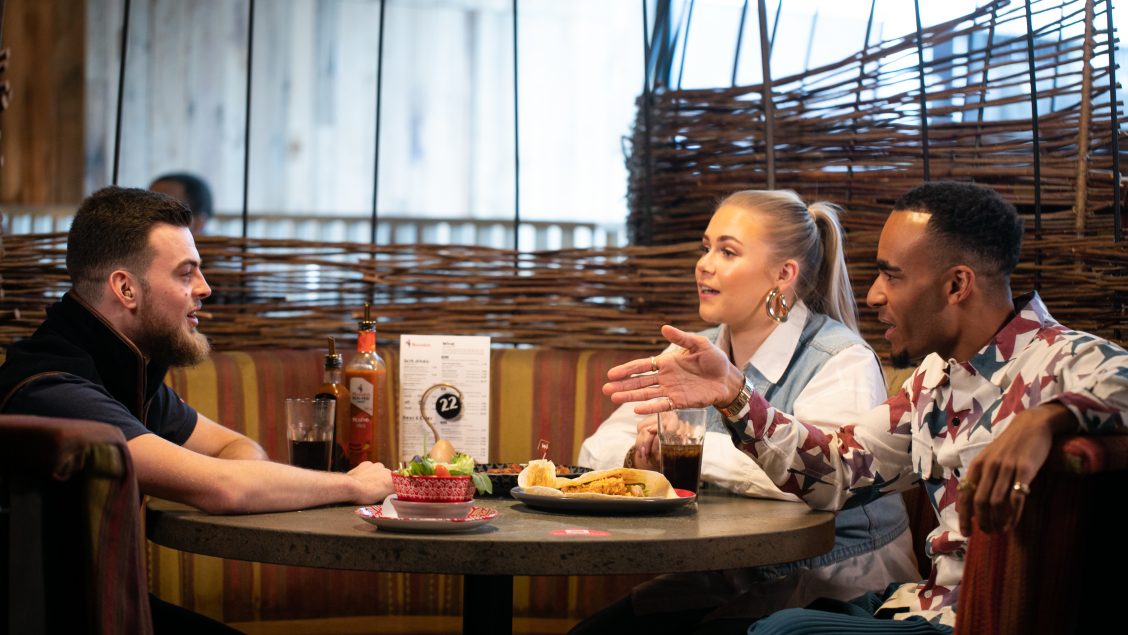 BACKGROUND
Peri-Peri chicken restaurant chain Nando's has cemented itself in UK youth culture over the years. Everyone knows the phrase 'cheeky Nando's', especially Gen Zs. However, despite the high levels of brand awareness, LADbible Group's UNILAD found that only 17% of their large Gen Z audience had purchased food or drink from Nando's in the last 30 days.
Something was missing. Gen Zs were definitely connected to the brand, but weren't committed. So, we turned to research. With the help of LADnation, we looked into the heart of the problem. What we found was surprising. We discovered that out of all of the UK's chain restaurants (and that's a lot of places), Nando's is the #1 date spot for Gen Z.
Looking deeper into Gen Z's dating habits via some BBC research, we realised what was going wrong. Gen Z wasn't going on a lot of dates. According to the BBC, Gen Z are more hesitant to date, have sex, or get into a relationship than previous generations.
So, while Nando's was a dating hotspot, it was a dating hotspot for an audience that wasn't dating very much.
To drive relevancy – and commitment – to Nando's, we needed to get Gen Z into dating. That way, we'd get Nando's and Gen Z back together. Officially. So, thanks to our research findings, we began a truly Gen Z-friendly collaboration between UNILAD, Nando's, and – of course – Tinder.
WHAT WE DID
Using LADnation, the LADbible group's in-house research offering, we asked a 55k-strong audience of Gen Zs to tell us the biggest problems they faced when it came to dating. The top three? Having confidence, fear of being ghosted, and getting 'the ick' too quickly (that is, being put off by something minor you're then unable to move past). Driven by this research, we created a content series based on – well, you guessed it. First dates at Nando's.
Using Tinder, we recruited Gen Zs who were struggling with the problems we'd uncovered in our research. Then, we set about creating a series of perfect first dates: at Nando's, of course. Each episode showcased one of the top dating problems, with someone who'd actually experienced them.
We created a spicy ice-breaker called Wing or Truth, which we showcased in a series of short clips launched on Instagram and TikTok, and opened up to customers coming in with #WingmanWednesdays.
But, just in case our daters didn't quite have the chat, we also gave them the ultimate wingman (pun intended): the internet's favourite comedian, Munya Chawawa. As Love's Young Wingman, Munya played cupid and came to the rescue of our singles, giving them a coaching session before the date, and, during the date, suggesting jokes and lines via a hidden earpiece to make sure the conversation flowed. As all of our first dates were held at one of the Nando's flagship restaurants, the brand was right at the centre of the action. That cemented Nando's once more as a location of choice for first dates.
Since this was Gen Z we were talking to, we published content via UNILAD's Instagram and TikTok. We used Instagram Carousels to contextualise the clips from the first dates with data from our survey, meaning we educated at the same time as we entertained our audience, making them realise this fear of dating was a Gen Z-wide problem, not just theirs. IG reels showed short-form episodes of the dates, while TikTokers got to see the highlights and the funniest parts. To cover all the Gen Z bases, we also ran an ad on Snapchat, featuring Munya, driving viewers to our site.
RESULTS
The insights we discovered led us to create a campaign that was truly culturally relevant to a Gen Z audience, meeting them where they were at in terms of dating anxiety and, of course, a 'cheeky Nando's'.
We drove over 32.9K link clicks to the Nando's website
The campaign delivered over 30 million impressions and a whopping 300,000+ engagements. Doubling top-of-mind awareness for Gen Z from 7% to 14%.
And the results from where Gen Z are usually found – TikTok – speak for themselves:
The campaign reached over 14.5 million people on TikTok
And with a 9%pt uplift in Gen Z believing that Nando's is a brand for 'people like me', we took Nando's back to its rightful place at the heart of Gen Z culture, thanks to LADBible and Tinder.