V Energy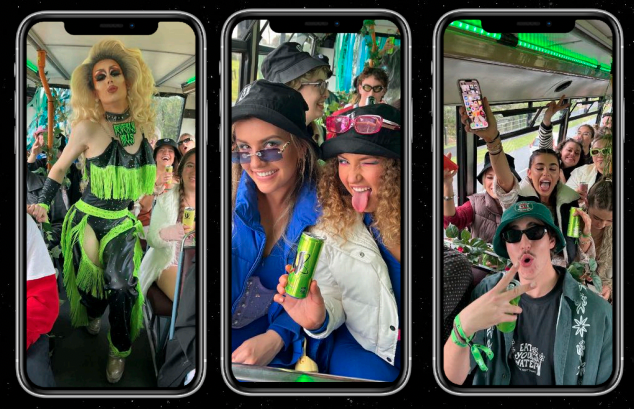 BACKGROUND
Travel to and from Australia's biggest music festival, Splendour in the Grass, is notoriously challenging, costly and a massive buzzkill. The biblical rain of 2022 didn't look set to make things any better.
How could V Energy, a direct category competitor of the lead festival sponsor and who had launched a 2022 brand campaign targeting music lovers, make the most of this festival moment?
WHAT WE DID
As rain threatened to wash Splendour out entirely, LADbible Australia went all in across events, talent, social and content creating a hyped brand moment that put V Energy at the heart of the festival experience.
Enter the V Energy Byron Party Bus – a free, guerilla-style Splendour shuttle service offering stranded festival-goers not only a lifeline but an extension of the party. Hosted by Rupaul's Drag Race Downunder star, Beverly Kills, with local legends DJ Dan.B and Ksubi's co-founder-cum-DJ, Dangerous Dan Man guaranteeing the vibes, our Byron Bay Party Bus showed up even when the festival itself was cancelled. We got festival-goers to and from while bringing the on-board party, popping V Energy directly into consumer hands, and generating plenty of organic moments that popped off on social.
Doing what we do best, we leveraged our audience of 10.8m Australians, teasing activity across Facebook, Instagram and TikTok, to generate some festival hype (and a little FOMO) and  our guerilla team spread the word IRL handing out wristbands and fliers to soggy Splendour-goers.
RESULTS
We created a hyped brand moment, drew in crowds on and offline, popped V Energy directly into the viral festival conversation, and nabbed a place in the official Guardian coverage of 'Splendour in the Mud'.
Over the wet weekend we hosted 12 bus trips, including 6 extra due to high demand on Sunday night. More than 1000 festival goers got on board to party with V Energy and over 1,500 cans of product were handed out.
We had a digital reach of 3.2m, delivering 238% of target, generated 250+ social posts and had an average reach of 459k on our daily videos.